Training is an investment and like any other investment you need to be able to see its impact. Frog makes this possible.
Giving staff rich, engaging opportunities for training and development is one thing. More than this, being able to view data on how your staff engage with their own training and development is a hugely powerful tool....
Compliance
All businesses have heavy responsibilities to bear. As part of this, compliance training for staff is not a "nice to have"; it is a "must have".
Whether making sure everyone is up-to-date with Health and Safety, Data Protection or Equality Awareness, Frog helps you deliver training to all staff and demonstrate the measures you are taking to address compliance.

Intervention and support
Data can be used in a variety of ways to support staff training and development within your organisation.
Knowing who has completed, who is struggling and who hasn't started with training is essential for managers, in order that they can support and coach staff in the right way. Being able to see the level of a staff member's commitment to professional development, too, will help inform professional reviews and 1:1s.
Staff can also take ownership of their CPD using the catalogue of training courses available.
Induction
Get your new recruits off to the best possible start at every level and role. Reporting gives you real-time data throughout the onboarding process.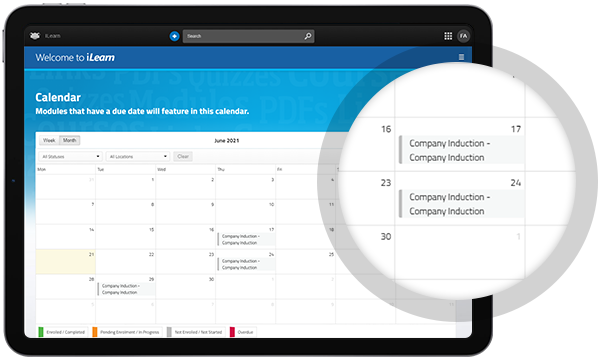 Programme development
Insights as to how individual course modules are performing provide training teams with trend data to be able to develop and adapt training content.
Discover:
Which modules are most and least popular
Which modules are unfinished
Patterns where learners become disengaged from a learning module
Consistent difficulties in modules, which may highlight the need for elements of training to be presented differently
Which learning activities and approaches work best
Customer Stories
Our constant target is to help businesses, multi-academy trusts and schools achieve their people development goals & objectives. See how we have helped different organisations to successfully do this...